WOW Tuesday Study 2020 Fall

Fall 2020 Tuesday Morning WOW
9:15 - 11:15am
September 29 through December 8, 2020
Meets in Room 20

Registration is closed. If you want to attend, please order your own book and come!

Cost for Tuesday sessions: $20.00
includes workbook
or
get your own book & pay $5
Childcare - $50.00 per child for the semester
Registration closes online on September 18, 2020.

We cannot refund registration fees once registration is completed.

If you register in person the first day of class the cost will be $5.00 and you must purchase your own book.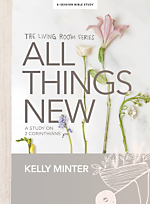 All Things New
Kelly Minter 2 Corinthians
Come join us to learn from Kelly Minter the world of 1st century Corinth and the early church. Familiar verses will become fresh to you as we study this very personal letter from the Apostle Paul as he writes to encourage this inconsistent church to "not lose heart."

Kelly's authentic style and passion for Christ will bring this beautiful book to life as we study together.


Class starts with a Kick Off event on September 29 and runs through Decemer 8.
Cost is $15 for pre-ordered book or $5 if you get your own book.
Tuesday WOW Bible Study
Fall Semester 2020
"All Things New" Kelly Minter 2 Corinthians

Sept 29 Kickoff
Oct 6 Video 1 All Things New
Oct 13 Video 2
Oct 20 Video 3
Oct 27 Video 4
Nov 3 Video 5
Nov 10 Video 6
Nov 17 Video 7
Nov 24 no class Thanksgiving
Dec 1 Video 8
Dec 8 Christmas Celebration